Here's a list of July 4th events around Southern California, organized by county.
LOS ANGELES COUNTY
Alhambra– Almansor Park
800 Almansor St.
Family activities begin at 3 p.m; fireworks start at 9 p.m.
www.cityofalhambra.org
Avalon/Catalina
Parade, dinner and fireworks at Descanso Beach Club
4th of July Parade on Crescent Ave in Avalon begins at 1 p.m
Buffet dinner and concert with USC Marching Band begins at 6:15 p.m. (Tickets are $59 for adults, $29 for children)
Firework Display 9 p.m
DJ and Dancing on the sand from 9:30 p.m. to 11:00 p.m.
https://www.visitcatalinaisland.com/things-to-do/events/4th-of-july-celebration-in-avalon/
Burbank– Starlight Bowl
1249 Lockheed View Drive
Gates open at 4:30 p.m.; live entertainment from Big Bad Voodoo Daddy & Rumble King; fireworks to follow
http://www.starlightbowl.com/portfolio-item/july-4-2019-big-bad-voodoo-daddy-rumble-king/
Calabasas– Calabasas High School Football Field
22855 W. Mulholland Highway
Gates open at 5 p.m.; fireworks at 9 p.m.
Advanced tickets required; $10 per person
www.cityofcalabasas.com
Cerritos – Cerritos Civic Center
18125 Bloomfield Avenue
46th Annual Let Freedom Ring Celebration runs from 4 to 9 p.m. Fireworks show at 9 p.m.
http://www.cerritos.us/_pdfs/lfr_flyer.pdf
Claremont – Memorial Park
840 N. Indian Hills Blvd.
Claremont, California 91711
Freedom 5000 Run/Walk 7:30 a.m – 10 a.m
4th of July Festival 10 a.m – 2 p.m
Parade at 3 p.m
Concert and Fireworks at 6:30 p.m.
https://www.ci.claremont.ca.us/Home/Components/Calendar/Event/4403/20?backlist=%2f
Downtown Los Angeles – Grand Park Block Party
Doors open at 3 p.m.
Fireworks at 9 p.m.
200 N Grand Ave
Los Angeles, CA 90012
https://july4.grandparkla.org/
Gardena
Rowley Park – 13220 S. Van Ness Avenue
Fireworks and food trucks
Food trucks open at 5 p.m; fireworks begin after dusk
https://www.cityofgardena.org/4th-of-july/
Hollywood – Hollywood Bowl
July 4th Fireworks Spectacular: Daily, July 2 – July 4
Performance by the Nile Rodgers & CHIC and fireworks
2301 N. Highland Avenue
http://www.hollywoodbowl.com/
Irwindale
5050 N. Irwindale Ave.
Celebration starts at noon; Fireworks display at 9 p.m.
http://www.ci.irwindale.ca.us
La Crescenta – Crescenta Valley High School
4343 La Crescenta Avenue (main entrance off Prospect Avenue)
Gates open at 4 p.m (close at 8:30 p.m); fireworks at 9 p.m.
Pre-sale tickets are $9, $10 at the gate; kids 7 and under free
www.cvfireworks.com/
Lancaster
4th of July Fireworks Extravaganza
Gates open at 4 p.m.
Professional Bull Riders Touring Pro Division at 7 p.m
Free firework show at 9:30 p.m
Antelope Valley Fairgrounds
2551 West Avenue H
https://www.cityoflancasterca.org/about-us/departments-services/parks-recreation-arts/special-events/4th-of-july-fireworks-extravaganza
Long Beach
The Queen Mary
1126 Queens Highway
Games, entertainment, fireworks, arts & crafts from 3 p.m. to 10 p.m.
Pre-sale tickets are $49.00 per adult (ages 12+); $29 per child (ages 4-11)
Tickets at the door are $59 per adult (ages 12+); $39 per child (ages 4-11)
https://www.queenmary.com/calendar-of-events/july-4th/home/
Marina Del Rey
Fireworks launch at 9 p.m.
View the show from either Burton Chace Park (13650 Mindanao Way) or Fisherman's Village (13755 Fiji Way)
http://www.visitmarinadelrey.com/events/july-4-marina-del-rey/
Pacific Palisades – Parade, concert and fireworks
Parade and skydivers starts at 2 p.m.
Food/Concert gates open at 4 p.m.; main stage concert at 6 p.m.
Fireworks at 9 p.m.
http://www.palisadesparade.org/
Pasadena – Rose Bowl Americafest
1001 Rose Bowl Drive
Festival begins at 2 p.m.; doors open at 5:30 p.m. fireworks at 9 p.m.
Tickets start at $15
www.rosebowlstadium.com/events/detail/america-fest
Pomona – Fairplex
1101 W. McKinley Avenue
Gates open 5 p.m.
Motocross and monster truck show begins 8 p.m.
Fireworks show begins at 9:15 p.m.
General admission starts at $18.50
http://www.fairplex.com/events/viewevent?id=91d78827-1cc0-6ff9-9755-ff000057040b
Porter Ranch– Shepherd Church
19700 Rinaldi Street
Live entertainment, food vendors and fireworks after sundown
Doors open at 4:30 p.m
http://shepherdchurch.com/4th
Rosemead
Parade beginning at 10 a.m. (Valley Boulevard and Muscatel Avenue)
Carnival and food vendors; fireworks at dusk
http://www.cityofrosemead.org/news/what_s_new/4th_of_july_celebration
Santa Clarita/Newhall
4th of July Parade in Old Town Newhall
Parade starts at 9 a.m.
http://scvtv.com/category/parade/
Santa Clarita/Valenica – Westfield Valencia Town Center
Fireworks at 9:20 p.m.
santaclaritaguide.com
Six Flags Magic Mountain
26101 Magic Mountain Parkway
4-day Independence Day celebration
Fireworks all four nights, festive foods, and more
https://www.sixflags.com/magicmountain/special-events/celebration/july-4th-fest
Santa Monica– 4th of July Parade
Main Street: 9:30 a.m.-12 p.m.
www.santamonica.com/fourth-of-july-in-santa-monica/
South El Monte– New Temple Park
4900 Southern Avenue
Celebration begins at 1 p.m.; fireworks at 9 p.m.
https://www.eventbrite.com/e/south-el-montes-4th-of-july-celebration-tickets-63715541901
South Gate– Baseball Diamond 1
4855 Tweedy Boulevard
Carnival from 2:00 p.m. – 11:00 p.m.
Fireworks display at 9 p.m.
www.cityofsouthgate.org
Sunland-Tujunga– Verdugo Hills High School
10625 Plain View
Live music, games and food
Gates open at 5 p.m. (close at 8:30 p.m.); fireworks shortly after 9 p.m
sunlandtujungafireworks.com/
Walnut
Suzanne Park
625 Suzanne Road
Live entertainment, pooch parade, food trucks and fireworks.
Fireworks start at approximately 9 p.m.
http://www.cityofwalnut.org/for-residents/city-events/city-special-events-summer
Woodland Hills
Councilman Bob Blumenfield's July 4th Fireworks Extravaganza
6 p.m. – 9:30 p.m.
For more information visit www.valleycultural.org/concerts-programs/july-4th-extravaganza/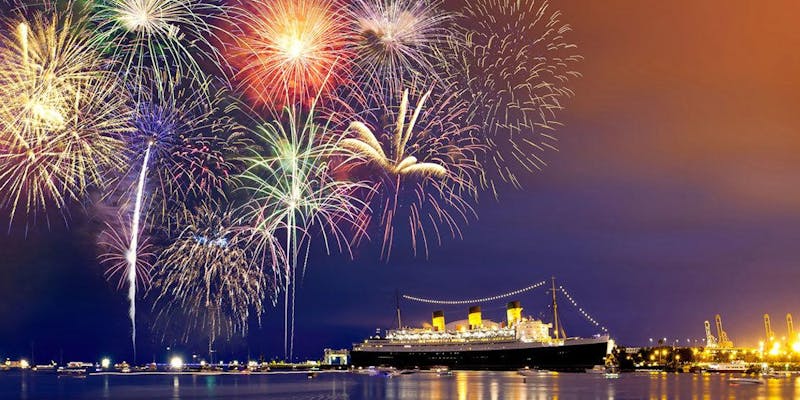 ORANGE COUNTY
Aliso Viejo
Grand Park
AVCA July 4th Celebration & Fireworks
Aliso Creek Road and Pacific Park Drive
Live entertainment, fireworks, and more: 6 p.m. – 9:30 p.m.
www.avca.net
Anaheim Hills
Canyon High School & Peralta Park
Firecracker 5K/10K Run/Walk at 7 a.m. at Canyon High track
Pancake Breakfast from 7:30 a.m. – 9:30 a.m. at Canyon High
Yankee Doodle Dog Show at 9 a.m. at Canyon High
4th of July Parade at 1 p.m. at Canyon High
Food booths & entertainment from 3 p.m. – 8:45 p.m. at Peralta Park; fireworks at 9 p.m.
http://www.anaheimhillscommunitycouncil.org/
Anaheim
Disneyland Resort – fireworks at 9:30 p.m.
disneyland.disney.go.com/entertainment/disneyland/fireworks/
Dana Point
24650 Dana Point Harbor Drive
Fireworks Extravaganza at 9 p.m
www.danapoint.org
Doheny State Beach
25300 Dana Point Harbor Drive
Park hours are 6 a.m. to 10 p.m.; Fireworks start at 8:45 p.m.
www.dohenystatebeach.org
4th of July Cruises from Dana Wharf Sportfishing and Whale Watching
Dinner and fireworks display cruises
Price starts at $10 for kids (0-2), $29 for kids (3-12) and $45 for adults (13+)
https://danawharf.com/
Fullerton
Fullerton Union High School Softball Field
201 E Chapman Avenue
5 p.m. – 9 p.m.; fireworks at 9 p.m.
www.cityoffullerton.com/resident/community_events/4th_of_july.asp
Huntington Beach
Pier Plaza at Huntington Beach Pier
Parade at 10 a.m.
Fireworks at Huntington Beach Pier at 9 p.m.
www.hb4thofjuly.org/about-us.html
Irvine
Irvine High School stadium
4321 Walnut Avenue
Pyro Musical sky concert & Fireworks extravaganza
Gates open at 3 p.m.; fireworks at 9 p.m.
https://irvinepa.org/events/
La Habra
La Bonita Park
1440 W. Whittier Blvd.
Gates open at 4:00 p.m.; fireworks begin at 9:00 p.m.
Pre-sale wristbands are $3 for kids, $5 for adults
Day of wristband prices are $5 for kids, $7 for adults
www.lahabracity.com
Laguna Hills
Food, music, carnival games and more
Community Center & Sports Complex
25555 Alicia Parkway
4 p.m – 9:30 p.m; fireworks at 9:10 p.m
https://www.ci.laguna-hills.ca.us/Calendar.aspx?EID=316&month=7&year=2019&day=4&calType=0
Laguna Niguel
Crown Valley Community Park
29751 Crown Valley Parkway:
40th Annual Run in the Parks: 7:30 a.m. – 11:00 a.m.
Summer concert: 6:30 p.m. – 8:00 p.m.
Laguna Niguel Regional Park
28241 La Paz Road:
Fireworks at 9 p.m.
http://www.cityoflagunaniguel.org
Lake Forest
El Toro High School
25255 Toledo Way
Parade at 10 a.m; starts at the corner of Toledo Way and Ridge Route Drive and ends on Serrano at Ridge Route.
http://lakeforestparade.com/
Sun and Sail Club
24752 Toledo Ln
Live entertainment, food, and more
Fireworks at 9 p.m.
http://lf2recreation.org/
Los Alamitos
Joint Forces Training Base
11200 Lexington Drive
Gates open at 4 p.m.; fireworks at 9 p.m.
cityoflosalamitos.org
Mission Viejo
Olympiad Road between Marguerite Parkway and Melinda Road
Noon – 9 p.m.; fireworks at 9 p.m.
cityofmissionviejo.org/
Newport Beach
Old Glory Boat Parade Event – Newport Harbor
1:00 p.m. to 3:30 p.m.
https://alyc.com/event-3120880?CalendarViewType=1&SelectedDate=7/25/2019
4th of July parade and fireworks cruises through Newport Bay
1 p.m. – 3:30 p.m.; 4 p.m. – 6:30 p.m.; 7 p.m. – 9:30 p.m.
Tickets start at $45
www.cruisenewportbeach.com/4thofjuly.html
Newport Dunes Waterfront Resort & Marina
1131 Back Bay Drive
Gates open at 8 a.m; fireworks at 9 p.m.
$50 per car
www.newportdunes.com/event/4th-july-newport-beach/
San Clemente
622 Avenida Del Mar
Fireworks: 9:00 p.m.
san-clemente.org
Santa Ana
Centennial Park
3000 W. Edinger Avenue
5 p.m. – 9:30 p.m.; fireworks at 9 p.m.
https://www.ci.santa-ana.ca.us/events/4th-july
Tustin
Tustin High School football field
1171 El Camino Real
6 p.m. – 10 p.m.; fireworks at 9:00 p.m.
https://www.tustinca.org/Calendar.aspx?EID=245&month=7&year=2019&day=25&calType=0
Yorba Linda
Yorba Linda Middle School
4777 Casa Loma Avenue
Festivities from 5:00 pm – 10:00 pm; fireworks at 9 p.m
https://www.yorbalindaca.gov/DocumentCenter/View/1400/4th-of-July-2019
RIVERSIDE COUNTY
Beaumont
Stewart Park
985 Maple Avenue
Celebration from noon to 10 p.m; fireworks at 9 p.m.
http://beaumontca.gov/Calendar.aspx?EID=2690&day=25&month=7&year=2019&calType=0
Corona
Santana Park
598 Santana Way
Main street parade begins at 9 a.m
Music, food, and more at 5 p.m.; fireworks at sundown
https://www.coronaca.gov/Home/Components/Calendar/Event/24328/
Palm Desert
Palm Desert Civic Center Park
43900 San Pablo Ave
Evening kicks off at 7:30 p.m; fireworks at 9 p.m
https://discoverpalmdesert.com/fire-up-the-red-white-and-boom/
Palm Springs
Palm Springs Stadium
1901 E. Baristo Road
Fireworks to follow the baseball game; free admission starts at 8 p.m.; fireworks at 9:15 p.m.
www.visitpalmsprings.com
Riverside
Evergreen Memorial Historic Cemetery
4414 14th and Pine Street
5 p.m. – 9:30 p.m.
General Admission: $10
Pre-sale tickets available online
http://evergreen-cemetery.info/event/front-row-fireworks/
San Jacinto
Valley Wide Regional Park
901 Esplanade Avenue
Fireworks start at 9 p.m.; Street festival from 10:30 a.m. to 1 p.m.
http://www.seecalifornia.com/events/4thofjuly/san-jacinto.html
Temecula
4th of July Parade will start at Old Town Temecula at 10 a.m.
Entertainment from 2 p.m. – 9 p.m. at Ronald Reagan Sports Park; fireworks at 9 p.m. sharp
temeculaca.gov/1087/4th-of-July-Extravaganza
SAN BERNARDINO COUNTY
Big Bear
Fireworks over Big Bear Lake
Fireworks start at 8:45 p.m.
http://www.bigbear.com
Fontana
Fontana High School
9453 Citrus Avenue
6 p.m – 9:00 p.m; fireworks at 9:00 p.m.
www.fontana.org
Redlands
Daytime activities at Sylvan Park
Festivities start at 9 a.m.; parade starts at 10:30 a.m.
Fireworks celebration at University of Redlands
Gates open at 6 p.m.; show starts at 6:45 p.m. with fireworks at 9 p.m.
https://redlandsfourthofjuly.com/
San Bernardino
Baseball game and fireworks July 4
Watch the game then stay for fireworks
Game starts at 7:05 p.m., followed by 4th of July fireworks display
Tickets between $5-$15
280 South E Street
http://www.milb.com/index.jsp
VENTURA COUNTY
Camarillo
Camarillo High School stadium
4660 Mission Oaks Boulevard
Gates open at 7 p.m.; fireworks at 9 p.m.
http://www.ci.camarillo.ca.us/
Fillmore
Sespe Creek Car Show and Fireworks
300 Block Central Avenue
Car show from 9 a.m. – 3 p.m.
Fireworks launched from Fillmore High School at 9:15 p.m.
www.conejovalleyguide.com/welcome/4th-of-july-fireworks-parades-and-other-events-around-ventur.html
Ojai
Nordhoff High School stadium
Concert and fireworks
1401 Maricopa Highway
Gates open at 5:30 p.m.; fireworks at 9:15 p.m.
www.4thofjulyinojai.com/
Oxnard
Channel Islands Harbor
Family fun at Marine Emporium Landing – 11 a.m. = 9 p.m.
Fireworks by the sea at 9 p.m.
https://www.channelislandsharbor.org/event/fireworks-by-the-sea-2019/
Simi Valley
Ronald Reagan Presidential Library
40 Presidential Drive
Family fun and food
10 a.m. – 3 p.m.
https://www.reaganfoundation.org/programs-events/events-calendar/
Rancho Santa Susana Community Park
5005 E Los Angeles Ave
Simi Valley, CA 93063.
Fireworks celebration will take place from 3 p.m. – 9 p.m., followed by fireworks
https://www.simivalleychamber.org/4thofjuly/
Thousand Oaks
Hillcrest Center of the Arts
Viewing areas:
Janss Marketplace: 275 N Moorpark Rd
Oaks mall: 350 West Hillcrest Drive
Fireworks at 9 p.m.
https://www.conejovalleyguide.com/local-events/4th-of-july-fireworks-spectacular-and-other-fun-events-in-thousand-oaks
Westlake Village
4th of July Parade, Fairytales in the Park, fireworks and more!
Gates open at 5 p.m.; fireworks at 9:10 p.m.
http://wlv.org/366/4th-of-July-Fireworks-Show